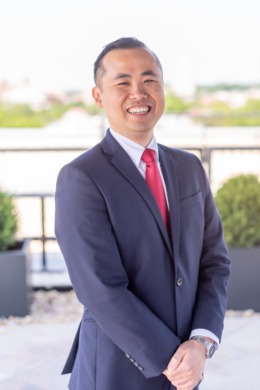 Gary has over 12 years of experience in the engineering and design industry, where he has helped people break down what they need and how to obtain it. He has extended that experience to real estate and has helped homebuyers in different stages of their lives gain confidence in their specific home buying experiences. Whether you are a first-time homebuyer or a seasoned real estate investor, Gary will provide you with top-notch client service tailored to your specific situation.
Gary was born and raised in the DC Metropolitan Area. He is an engineer by discipline and a designer by trade with a Masters of Science in Mechanical Engineering from University of Maryland and Innovation Certificate from Stanford University. His background provides a unique perspective in the home buying or selling experience.
When he is not touring homes, hosting open houses, or writing up contracts, Gary loves hanging out with his puppy Corgi, working on home improvement projects, and trying out new restaurants in the DC Metro Area with his wife.
Gary is fluent in both English and Cantonese? Test him on this...
If you'd like to start a conversation about living in Northern Virginia, contact Gary at (571) 494-0300 or [email protected].