Tim Royster
Team Lead & Realtor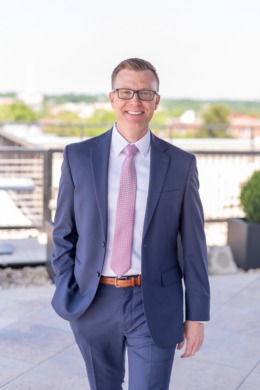 Tim, a U.S. Army veteran, is committed to integrity and delivering the highest quality of service to his clients. He is a strong negotiator and he advocates for his clients to achieve the best possible outcome. He provides his honest opinion, even when it is the tougher option.
Tim has over 10 years of experience assisting first-time homebuyers, move-up buyers, relocating clients, investors, retirees, veterans and active-duty military in buying and selling their properties in Texas and Virginia. His experience in high volume transactions in each state gives him a unique insight into clients' wants, needs and expectations.
Tim is also MRP (Military Relocation Professional) certified. The National Association of REALTORS® confers the MRP certification to REALTORS® who want to help military personnel and veterans find the housing solutions that best suit their needs and take full advantage of military benefits and support.
Tim is a classically trained musician with a Masters of Music degree from Indiana University Jacobs School of Music in Bloomington, Indiana. He was a tubist in the premiere U.S. Army Band, "Pershing's Own" in Washington DC.
Besides investing his time in real estate, Tim  enjoys spending time with his wife and three children, exploring Northern Virginia, reading, roasting coffee beans and drinking coffee.
Testimonials
My wife and I were looking to help our daughter & her fiancée purchase their first home in VA. Since we live full-time in NJ, it created some challenges. Our concerns were immediately eliminated when we clicked on the Compass Realty site with the Royster Hearth Group.

Without being overbearing, Tim Royster made the experience extremely comfortable and collegial. He notified us only when we requested his advice and provided a "shared" site for us to visit. On this page, he placed only the homes that aligned with our specifications. Tim continually kept in mind our price range, desired location and did not simply flood the site with every new home that became available on the market. This made our selection process so much easier and reassured us that these homes were relevant to our preferences. This was important when deciding which homes to visit since we were traveling from another state.

When we did reach out to Tim, he replied promptly and professionally, laying out the pros & cons of each home per our requirements. He never attempted to "sell" us anything and was there simply to provide us with the adequate information so that we could make an informed decision. We have been through the home purchasing process several times throughout our 38-year marriage and I cannot state how professional and at ease Tim and the entire Royster Hearth Group was to deal with; our best real estate experience by far!

We highly recommend the Royster Hearth Group from Compass without reservation.

Sandy and Steve