Homeowner Wealth Increases Through Growing Equity This Year
Posted by Tim Royster on Wednesday, June 23, 2021 at 12:50 PM
By Tim Royster / June 23, 2021
Comment
Homeowner Wealth Increases Through Growing Equity This Year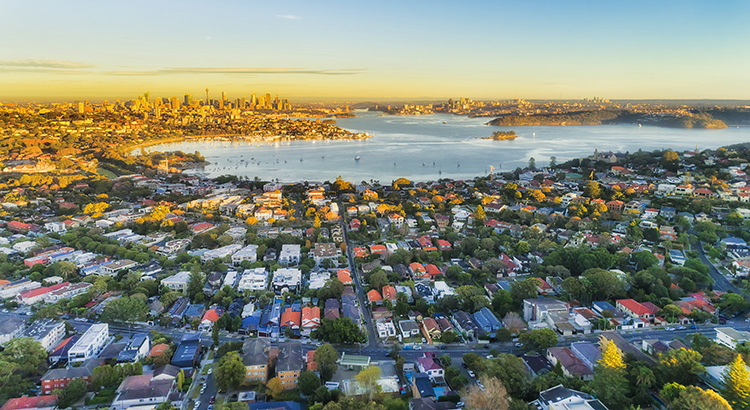 Building financial wealth and stability remains one of the top reasons Americans choose to own a home, and as a homeowner, your wealth often grows without you even realizing it. In a recent paper published by the Urban Institute, Home Ownership is Affordable Housing, author Mike Loftin illustrates how homeowners increase their equity and their wealth simply by making monthly mortgage payments:
"The principal portion that reduces the loan balance builds the homeowner's equity. In doing so, the principal payments behave like an automatic savings account. The principal payment is not money going out; it is money staying in."
But home equity – the difference between the value of your home and what you currently owe – isn't just built through your monthly principal payments. Home price appreciation plays a vital role in growing your equity and, ultimately, your wealth.
As Freddie Mac explains:
"Homeownership has cemented its role as part of the American Dream, providing families with a place that is their own and an avenue for building wealth over time. This 'wealth' is built, in large part, through the creation of equity…Building equity through your monthly principal payments and appreciation is a critical part of homeownership that can help you create financial stability."
Homeowners Continue To See Equity Increase
CoreLogic recently published their latest Homeowner Equity Insights Report, and it shows continued growth in equity amidst record home price appreciation. The report provides several key takeaways, all of which point to rising wealth for homeowners:
The average equity gain of mortgaged homes during the past year was $33,400
The current average equity of mortgaged homes is greater than $216,000
There was a 6% increase in total homeowner equity over the past year
Total U.S. homeowner equity has reached nearly $1.9 trillion
Here, you can see the equity gains by state: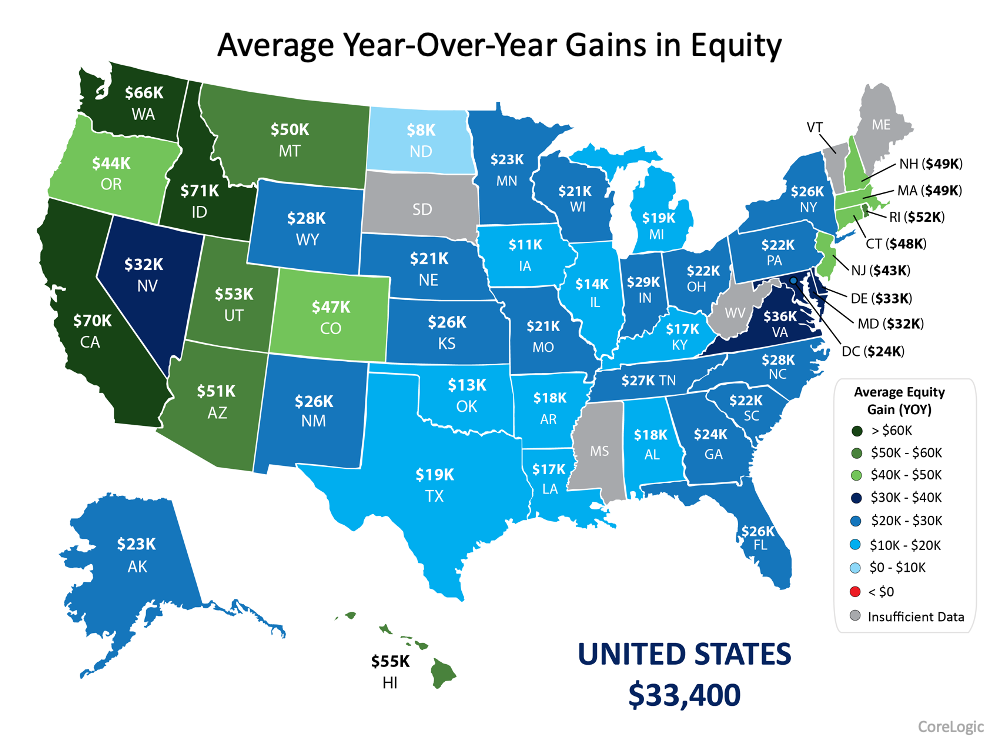 Equity Provides Homeowners with Flexibility
In addition to being a critical tool in building wealth, a homeowner's equity also provides significant flexibility. When you sell your house, the accumulated equity comes back to you in the sale. Recent increases in home equity coupled with record-low mortgage rates mean it could be the perfect time for homeowners looking to make a move.
Mark Fleming, Chief Economist at First American, notes:
"Existing homeowners today are sitting on record amounts of equity. As homeowners gain equity in their homes, the temptation grows to list their current home for sale and use the equity to purchase a larger or more attractive home."
Increasing equity also helps families facing challenges brought on by the pandemic. Frank Martell, President and CEO of CoreLogic, explains in the recent Homeowner Equity Insights Report:
"Homeowner equity has more than doubled over the past decade and become a crucial buffer for many weathering the challenges of the pandemic. These gains have become an important financial tool and boosted consumer confidence in the U.S. housing market, especially for older homeowners and baby boomers who've experienced years of price appreciation."
Bottom Line
Home equity has always been a powerful wealth-building tool, and homeowners continue to see their financial stability increase. Let's connect today so you can better understand how much equity you have in your current home or if you're ready to take the next step in building your savings as a homeowner.
---
This blog and any information contained herein are intended for general informational purposes only and should not be construed as legal, accounting, financial or other professional advice. We take great efforts to ensure the accuracy of information contained here. However, we will not be responsible at any time for any errors or omissions or any damages, howsoever caused, that result from its use. Seek competent professional advice and/or legal counsel with respect to any matter discussed or published on this blog. This blog is not intended to solicit properties.
---
HOME is more than a place with a roof over your head. It is a place of comfort, love, warmth, rest and security – "HEARTH". We want to help you reach that place. Hence, our mission at The Royster Hearth Group is simple – Serve Our Neighbors, Not Ourselves. We work hard to serve you in every aspect of the home-selling and -buying process.