Delicious Thai Cuisine in Old Town Alexandria: Sisters Thai
Posted by Tim Royster on Saturday, November 11, 2023 at 10:29:21 AM
By Tim Royster / November 11, 2023
Comment
Old Town Alexandria is a great place for finding delicious ethnic food, but none quite so eclectic as Sisters Thai. A Thai restaurant with a creative spin, Sisters Thai has something to offer everyone.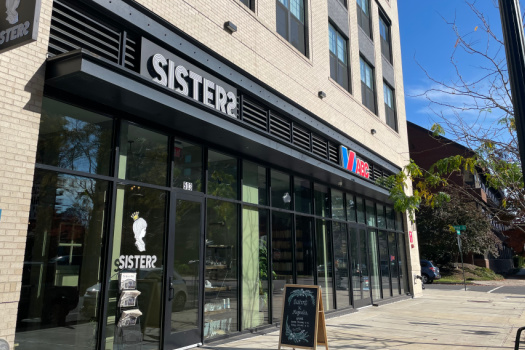 Thai Sisters. Photo by The Royster Hearth Group.
Eclectic Thai Restaurant for Brunch and Date Nights
Sisters Thai provides the ideal spot to snag brunch with a friend, enjoy a casual date night, or grab a drink at the bar or the café.
Unique DMV Dining Experience
One of four locations in the DMV, the Alexandria restaurant is a unique venue that features a sit-down dining area, as well as a bar with a cinematic marquee to draw the eye. Near the back of the restaurant lies their secluded café, Magnolia, known as the "dessert corner" of the location.
Top Rated Thai Desserts, and Drinks
Some of the most highly rated items on the menu include their rich desserts and drink options. While the menu highlights classic Thai dishes, such as Pad Thai, Panang Curry, and various spring rolls and dumplings, customers can also sample more unexpected treats like crispy crepes and lychee cheesecake.
Sisters Thai Drink Menu: From Milk Tea to Purple Potato Latte
Their drink menu includes milk tea, sparkling sodas, and a variety of lemonades and smoothies. Indulge in one of their featured beverages, the purple potato latte, and you won't be disappointed.
Overall:
The atmosphere is relaxed and trendy, and the menu is surprising and vibrant. Next time you are exploring Old Town Alexandria, don't miss out on the delicious Thai cuisine at Sisters Thai!
By Grace Egger
---
This blog and any information contained herein are intended for general informational purposes only and should not be construed as legal, accounting, financial or other professional advice. We take great efforts to ensure the accuracy of information contained here. However, we will not be responsible at any time for any errors or omissions or any damages, howsoever caused, that result from its use. Seek competent professional advice and/or legal counsel with respect to any matter discussed or published on this blog. This blog is not intended to solicit properties.
---
HOME is more than a place with a roof over your head. It is a place of comfort, love, warmth, rest and security – "HEARTH". We want to help you reach that place. Hence, our mission at The Royster Hearth Group is simple – Serve Our Neighbors, Not Ourselves. We work hard to serve you in every aspect of the home-selling and -buying process.