Will Low Mortgage Rates Continue through 2021?
Posted by Tim Royster on Thursday, February 18, 2021 at 7:35 PM
By Tim Royster / February 18, 2021
Comment
Will Low Mortgage Rates Continue through 2021?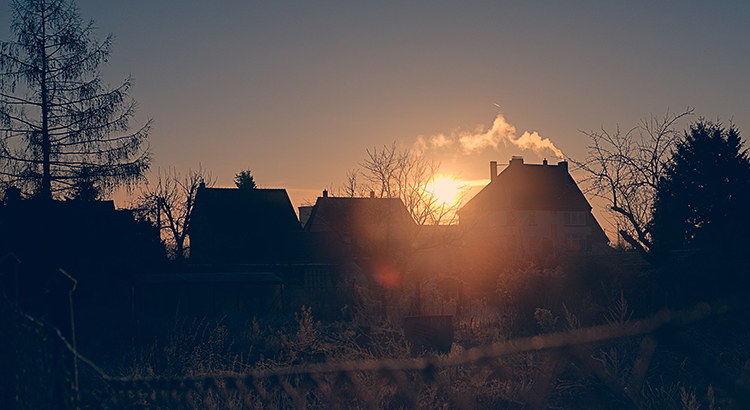 With mortgage interest rates hitting record lows so many times recently, some are wondering if we'll see low rates continue throughout 2021, or if they'll start to rise. Recently, Freddie Mac released their quarterly forecast, noting:
"The average 30-year fixed-rate mortgage hit a record low over a dozen times in 2020 and the low interest rate environment is projected to continue through this year. We expect interest rates to average below 3% through the end of 2021. While this is a modest rise from 2020 averages, the recent vote by the Federal Reserve to keep interest rates anchored near zero should keep rates low."
As shown in the graph below, Freddie Mac is projecting low rates going forward with a modest rise that's expected to continue through 2022.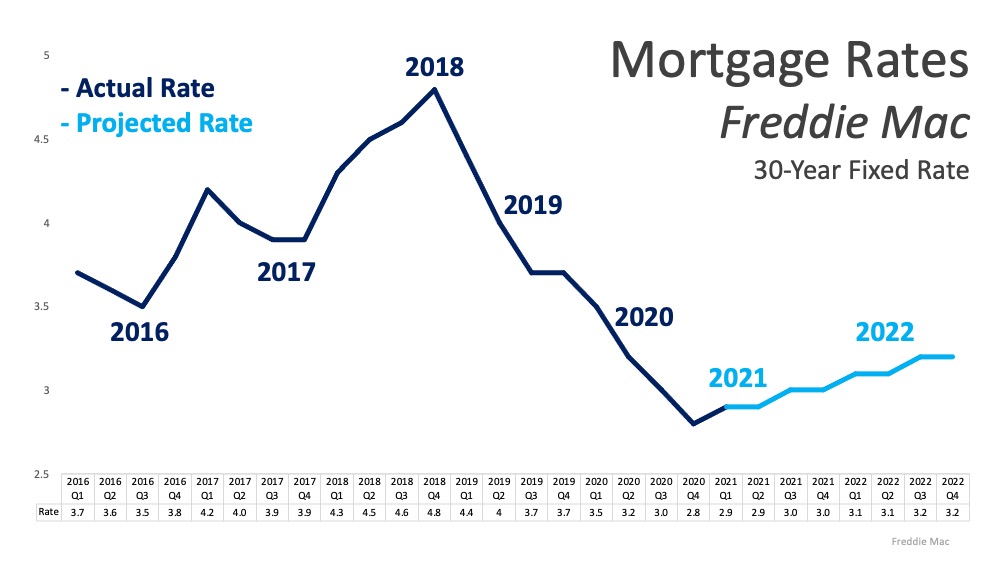 Freddie Mac isn't the only authority forecasting low rates with a slight rise. Fannie Mae, The Mortgage Bankers Association (MBA), and the National Association of Realtors (NAR) also anticipate low rates with a small increase as 2021 continues on. Here's the quarterly breakdown of their projections and how they're expected to play out over the next year: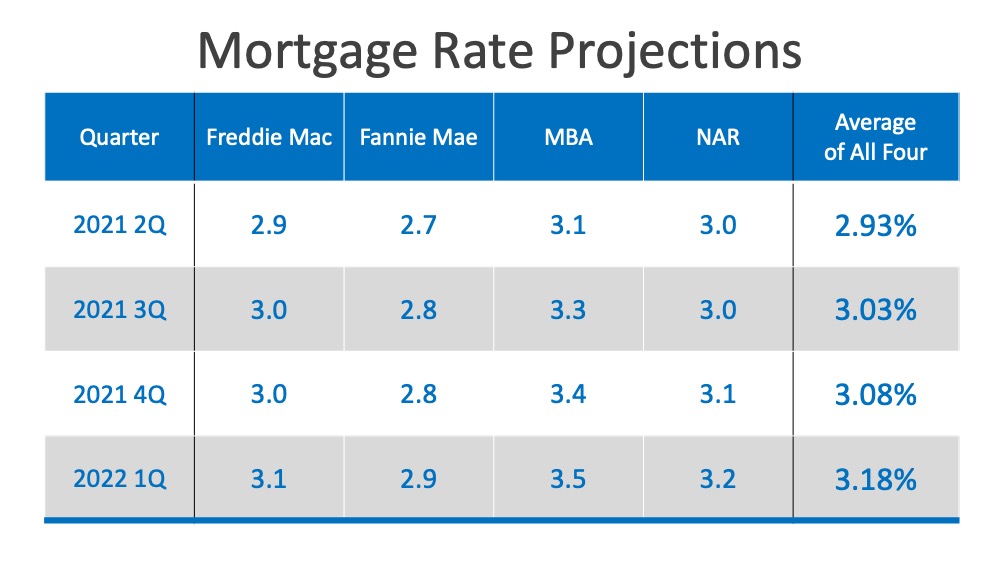 It's important to note that, while a small change in interest rates can have a substantial impact on monthly mortgage payments, these rates are still incredibly low compared to where they were just a couple of years ago.
What does this mean for buyers?
Low mortgage rates are creating an outstanding opportunity for current homebuyers to get more for their money while staying within their budget. As the economy gets stronger and we recover from the challenges of 2020, it's natural for rates to potentially rise in response to a healthier economy. Mark Fleming, Chief Economist at First American, reminds us:
"Rising interest rates reduce house-buying power and affordability, but are often a sign of a strong economy, which increases home buyer demand. By any historic standard, today's mortgage rates remain historically low and will continue to boost house-buying power and keep purchase demand robust."
With low rates fueling activity among hopeful buyers, there are a lot of people who are highly motivated and looking for homes to purchase right now. In this environment, it can be challenging to find a home to buy, so a local real estate agent will be key to your success if you're thinking of buying too. Working with a trusted real estate professional to navigate the process while rates are in your favor might be the best move you can make.
Bottom Line
If you're ready to buy a home, it may be wise to make your move before mortgage rates begin to rise. Let's connect to discuss how today's low rates can create more opportunities for you this year.
This blog and any information contained herein are intended for general informational purposes only and should not be construed as legal, accounting, financial or other professional advice. We take great efforts to ensure the accuracy of information contained here. However, we will not be responsible at any time for any errors or omissions or any damages, howsoever caused, that result from its use. Seek competent professional advice and/or legal counsel with respect to any matter discussed or published on this blog. This blog is not intended to solicit properties.
---
HOME is more than a place with a roof over your head. It is a place of comfort, love, warmth, rest and security – "HEARTH". We want to help you reach that place. Hence, our mission at The Royster Hearth Group is simple – Serve Our Neighbors, Not Ourselves. We work hard to serve you in every aspect of the home-selling and -buying process.